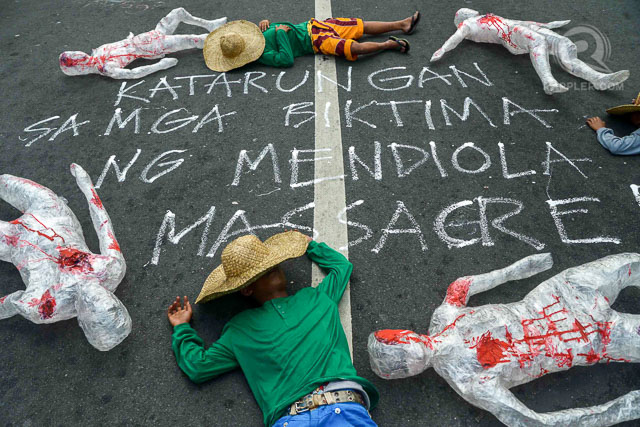 Originally published to Facebook on January 22nd, 2022.
Today, January 22nd, 2022, is the 35th anniversary of the Mendiola massacre, when state security forces open fired on a peaceful farmers protest in the Philippines. This brutal act was in response to a protest of roughly 15,000 farmers outside of the presidential palace, demanding the Aquino government follow through with her promises for genuine land reform. The action was led by the nationwide peasant organization, Kilusang Magbubukid sa Pilipinas (KMP), who had been leading continuous protests since January 15th outside the offices of the Ministry of Agrarian Reform in Quezon City. Their just demands were met with brutal violence that left at least 13 killed and more than 50 people injured.
As Philippines solidarity activists it is crucial we remember the 13 heroic people whose lives were taken on this day. We remember Danilo Arjona, Leopoldo Alonzo, Adelfa Aribe, Dionisio Bautista, Roberto Caylao, Vicente Campomanes, Ronilo Dumanico, Dante Evangelio, Angelito Gutierrez, Rodrigo Grampan, Bernabe Laquindanum, Sonny Boy Perez, and Roberto Yumul. According to some accounts, an additional 12 to 19 died later from their wounds. Their efforts embodied the demands shared by peasants across the country who wanted genuine land redistribution to those who worked it with no compensation or retention limits for landlords.
With the ousting of the dictator Ferdinand Marcos by the Filipino people's nation-wide mass movement the year prior, many hoped that the newly elected Aquino government would act on her promises for land reform and justice. The complete failures of her bogus land reform program, the Comprehensive Agrarian Reform Program (CARP), showed the peasant movement that they had to continue their fight. The Aquino government's response at Mendiola revealed that the country's so-called return to democracy was only an illusion and that fascism lingered in its unjust, anti-people policies. The people's memory of the Mendiola massacre serves as a permanent reminder that justice for the Filipino masses can never be found when the landlord and bureaucrat capitalist classes remain in power.
35 years after this massacre, millions of Filipino peasants remember this lesson and carry on the fight for genuine land-reform against a small but powerful landlord class supported by U.S. imperialism. Under the current Duterte regime, they still face extreme violence, with state forces killing 347 farmers since 2016. Most recently Rose Marie Galias and her husband Silvestre Fortades Jr, members of the progressive peasants organization Samahan ng mga Magsasaka sa Sorsogon (SAMASOR), were killed by masked assassins while selling onion and garlic on a roadside stand. While repressive violence continues against peasants by private landowner militias, state forces further protect wealthy landowners and comprador capitalists by blaming the bloodshed on the poor masses who simply demand for their human rights to be respected.
CPSO-Toronto stands firmly in solidarity with the National Democratic movement and peasant organizations' continuing struggles for genuine land reform. We condemn all acts of state violence that enforce the Filipino people's impoverishment, which is inherent to the current semi-feudal and semi-colonial system, and we reaffirm the calls of the struggling Filipino masses that these struggles will only end once this system is overturned.